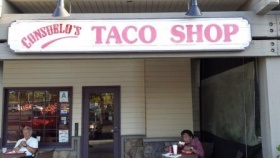 Hours:
7 days a week, usually from 8:00 a.m. to 9:00 pm (open later on Friday and Saturday)
Address:
10006 Scripps Ranch Blvd San Diego, CA 92131
Specialties:
Mexican Food in Scripps Ranch
Scripps Ranch is a food desert when it comes to Taco Shops. Hence, the gold standard in Scripps Ranch has always been Sombreros (since the 1990s!), although there is now a Fresh MXN right down the street from the Sombreros. This isn't really a big deal, because Mira Mesa has tons of Taco Shops and is right across the 15, but I digress.
Consuelo's should be an oasis in a Taco Shop desert, but it isn't. Food and prices here are reasonable, as are portions. However, nothing on the menu will blow you away. You go to Consuelo's if you live in old Scripps Ranch. Consuelo's location and the lack of any close taco shop alternatives are this restaurants biggest upsides.