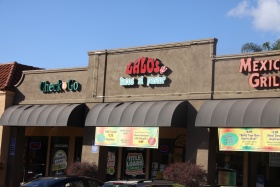 Hours:
Varies, opens early and stays open late, not 24/7
Address:
1266 University Ave San Diego, CA 92103
Specialties:
Lobster, build your own burritos, daily specials, extensive menu
Lalo's Taco shop is one of the most popular Taco Shops in the Hillcrest area, rivaled only by places like Saguaro's. Also, Lalo's perfectly nails it when it proclaims "Tacos el Pastor, etc." The "etc." is why you go to Lalo's. Lalo's does everything, inlcuding lobster, and does everything well. You will be hard pressed to find a Taco Shop in San Diego that offers the quality and variety of dishes at affordable prices. Downsides of Lalo's include, long lines, limited parking, and a co-ed bathroom that requires tokens requested from the counter. Lalo's has been serving quality Mexican food since 1989 and offers on-line coupons. It's an institution and separates itself from other Taco Shops by offering Lobster dishes and and a huge variety of menu items.