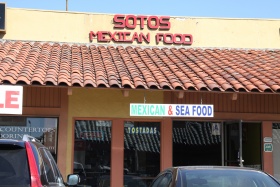 Hours:
8 am to 8 p.m. (hours vary a bit)
Address:
6904 Miramar Road San Diego, CA 92121
Soto's, sometimes erroneously referred to as "D'Sotos" is a tucked away Mexican restaurant located on Miramar road (note that there is a D'Sotos on Miramar road closer to the 15 freeway). It really caters to the breakfast and lunch crowd on Miramar road, hence its 8 am to 8 pm hours. Sotos specializes in seafood, but offers all the normal taco shop fare. It's tucked away, but usually is less crowded than Donato's, Rigobertos, or Taco Fiesta, which all reside closely to Soto's. Soto's does charge 50 cents for credit or debit cards, so bring cash if available. Soto's also offers a pretty nice surf n' turf burrito which goes with the seafood theme of the restaurant.