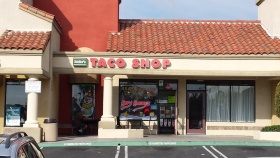 Hours:
Daily from 7:00 a.m. to 9:00 p.m.
Address:
1680 S Melrose Dr #110, Vista, CA 92081
Junior's Taco Shop is located right in the heart of Vista on South Melrose. There are a lot of lunch and dinner places in this area, but surprisingly few Taco Shops. Although parking is spacious during the day and evening, Junior's Taco shop attracts a lot of patrons from Rancho Buena High School, which is located right across the street. Predictably, high school kids will walk over and flood Junior's Taco shop during lunch and right after school. Typical annoying/high school student behavior ensues inside and outside of Junior's Taco Shop during these times.