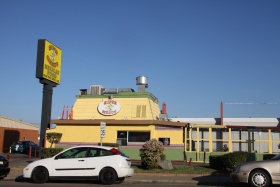 Address:
4125 Convoy Street San Diego, CA 92111
Specialties:
Offers 2 drive-thru windows
Super Sergio's has anchored the Mexican food scene on Convoy street for the last 15-20 years. Super Sergio's is a small hole-in-the-wall Taco Shop with very limited outdoor seating; it's primarily a drive-thru Taco Shop. Super Sergio's features a dual drive-thru window set up, meaning you can choose between two lanes when you drive up, which really helps mitigates the lunch hour rush. If you prefer to sit down and eat your food, Super Sergio's offers a few outdoor tables. Essentially, you order from a window, sit down, and then pick up your food from the same window when it's ready. Parking is extremely limited and street parking on Convoy is pretty much your only option. This is really the only game in town if you're in or around Convoy street--the only other Taco Shop nearby is Rolando's.