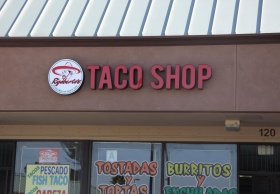 Address:
7094 Miramar Rd San Diego, CA 92121
Back in the early 2000's and late 1990's, this location used to be a Roberto's. Oddly enough this old Roberto's was located literally 1 mile from another Roberto's (which has since become a Donato's). This location was the more popular Roberto's, and was packed during lunch and late nights on Friday and Saturday. Fortunately, the name/owner change to Rigoberto's has done little to the quality and taste of the food inside. Other than the FreshMXN down the street, this is probably your best bet for Mexican food along Miramar road, and that's saying a lot considering the sheer number of taco shops/square mile located on Miramar road.
Specialties here include the California burrito, enchiladas, and also Carne Asada fries. Expect pretty long lines during the lunch rush and also during late nights on Thursday, Friday, and Saturday as UCSD students and locals converge at Rigobertos close to closing time (12:00 a.m. to 2:00 p.m.).