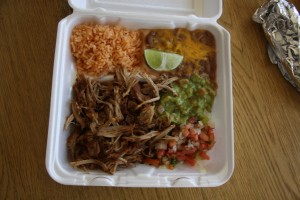 I love carnitas.  It's hands down my favorite type of meat when it comes to taco shops and Mexican restaurants.  There are two types of carnitas, chunk and shredded.  I prefer the shredded.  After visiting hundreds of taco shops in the San Diego area, I cannot find better carnitas for the price than the carnitas offered at Taco Express in downtown San Diego.
A number of factors make the carnitas at Taco Express amazing.  The carnitas at Taco Express is lean, moist, and always seasoned with a lot of flavor.  I've spoken to the owner/chef at length and he's confirmed that he purchases lean pork and he seasons the carnitas with his own blend of herbs and ingredients before slow cooking the pork to perfection.
If you're a carnitas fan, you need to go to Taco Express immediately and order one of the following:
Carnitas plate (pictured above): this is the biggest carnitas dish on the menu.  You get a full serving of carnitas with guacamole, a lime wedge, pico de gallo, rice and beans, and 4 corn or flour tortillas.  There is easily enough carnitas here to make 4 carnitas tacos.  This is all available for just under 7 dollars.
Carnitas tacos: two carnitas tacos, rice and and beans.
Carnitas burrito: a carnitas burrito, tortilla, some guac, and lots of carnitas.
California burrito with a meat substitution to switch the carne asada with carnitas.