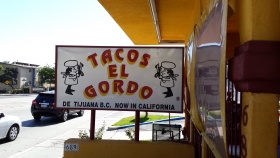 Hours:
Daily 10:00 a.m. to 4:00 a.m.
Address:
689 H St Chula Vista, CA 91910
Specialties:
Tijuana Street Tacos, Adobada Tacos
Tacos El Gordo, full name Tacos El Gordo de Tijuana, is one of the most popular Taco Shops in San Diego. Tacos El Gordo is the In-N-Out of Taco shops in the sense that the menu is small and only offers a few items, however all of the menu items are excellent. Tacos El Gordo only really serves street tacos, so an order of "one adobada" will net you two small tacos. While everything in the restaurant is very good, the adobada (seasoned pork with a red chili sauce marinade) is the specialty. The adobada is cooked schwarma style, so the chef will carve off your meat fresh and hot right from a spinning meat pole and place it onto Tacos El Gordo's handmade corn tortillas. You then have the option of adding green sauce.
Tacos El Gordo is legendary and extremely popular. There is always a line except for a few slow times during the day off of peak hours (e.g. if you're in Chula Vista around 2:30 p.m. on a weekday). As stated above, all menu items are very good, but the adobada is probably the most popular and has it's own line. You order and pay at separate locations because this helps facilitate the massive amount of people served at Tacos El Gordo. Parking is hit or miss, and you will miss more often than hit because the lot is small and Tacos El Gordo is on a busy street.