JV's Mexican Food
JV's is a really solid Mexican food restaurant/Taco shop hidden away in a very small strip mall in the Morena district: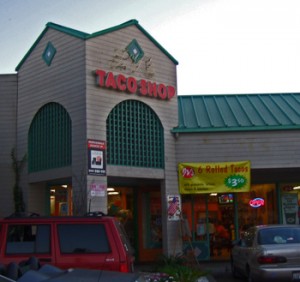 How solid is it?  Let's just say that on more than one occasion I've seen cooks here from another major Taco Shop chain located just up the street (think Roberto's, Sombrero's, Fresh MXN, etc.).
Why should you go here?
JV's serves every standard Taco Shop dish, and serves it well
JV's also offers a number of chef's creations you won't find elsewhere
Like Roberto's JV's serves Pepsi products and horchata (I prefer diet coke)
Aside from the fact that JV's serves up numerous tasty dishes, JV's offers a number of different menu items that you won't find anywhere else–and all at Taco Shop Prices.  The interior of JV's is covered with fluorescent signs advertising various twists to the standard dishes you would find at any other taco shop.  For example, you can enjoy a "hawaiian burrito" with pineapples and chicken if you so desire.  Additionally, you can try the "Sonora Quesadilla" which includes chicken (pollo asada), bacon (yes, bacon), jack cheese, mild green chiles, and guacamole–all for relatively low cost at about 6 dollars even with tax.
Other Points:
It's family owned (if you're into that)
There is only 1 JV's in San Diego/the world (located at 1112 Morena Blvd., San Diego, CA 92110)
Parking is tight because JV's is located in a really small strip mall
If you really like Taco Shops, JV's is definitely a restaurant to add to the bucket list
The salsa containers are massive compared to any other Taco Shop I've been to
House salsa in the large containers is either Cholula or something eerily similar to Cholula: